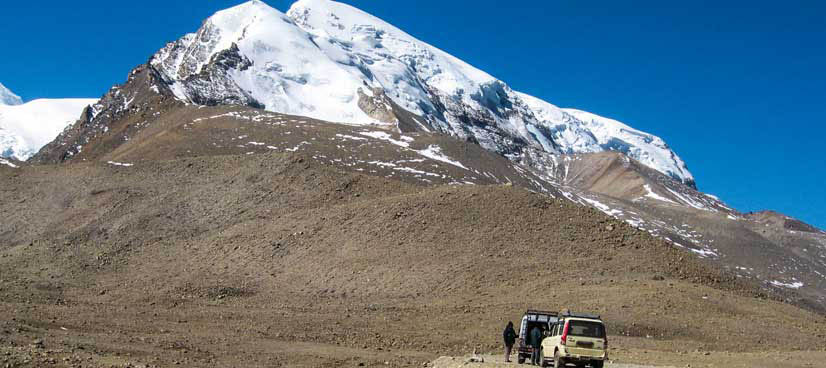 Chungthang sited amidst the confluence of Lachung Chhu and Lachen Chhu is a quaint Himalayan hamlet of North Sikkim. Perched at an elevation of 5780ft Chungthang has emerged as one of the major establishments of Sikkim region. Located at a distance of 96km from the bustling town Gangtok Chungthang valley is considered to be a sacred place which has been blessed by Guru Padmasambava. The word Chungthang is derived from the Lepcha language where it means the "top precious plains".
Cuddled amidst the mountainous valley of Sikkim in North, Chungthang valley is blessed with an amazing bio-diversity which includes a wide range of flora and fauna, beside the rich flora and fauna, there is an interesting story that claims Chungthang to be the place from where the word Demaong (the hidden valley of rice) was first originated in Sikkim. As per the legend, Chungthang valley used to be the meeting point of Guru Rimphoche and Lepcha Chieftain Thekung Tek during 7th century, and one can visit the Holy Guru Ihedu to see the foot and palm print left behind by the patron saint upon the rock on which he rested. From a small opening in the rock there is continuous flow of mineral water. There is a small patch of land here from which grows paddy every year. The nature defying miracle is believed to be the blessing of Guru Padmasambava who sprinkled a handful of grain on the spot which has sprouted paddy ever since, a rarity at that altitude. There is another legend in which it is believed that Guru Nanak Dev visited this place during his trip to China and Tibet. There is a tree in this town which is supposed to be grown at the place where Guru Nanak Dev placed his stick. It is believed that the name Chungthang is derived from Punjabi words Chunga and Sthan which means good place. One cannot afford to overlook Chungthang while travelling in the North Sikkim. The landscape of Chungthang is changing rapidly and is becoming a major settlement in North Sikkim. Apart for being famous as a nature endowed place, Chungthang Valley also acts as base for the tourist who wants to explore the more high altitude destination of northern Sikkim like Lachen, Lachung and Yumthang Valley and the journey towards this pictorial destination is through some beautiful hilly terrain.
Sited on the confluence of the most scenic rivers of Sikkim Lachen Chhu and Lachung Chhu, the sacred valley surrounded by the daunting mountains of Himalayan Range, Chungthang with its unearthly legends and picturesque sceneries has become a must visit destination for travelers who loves to learn more about the mythical legends and venture upon the high altitude destination of North Sikkim. Witnessing the green lush paddy field amidst mountainous valley can be a surreal experience which can be seen in Chungthang valley.
Best time to visit Chungthang
North Sikkim is famous among the tourist for being a cold destination but at Chungthang valley the weather remains cozy throughout the year but it also receives heavy rainfall during monsoon season and it is better to avoid travelling in rainy season since the roads becomes more prone to landslide after a heavy rainfall resulting in the blockage of road.