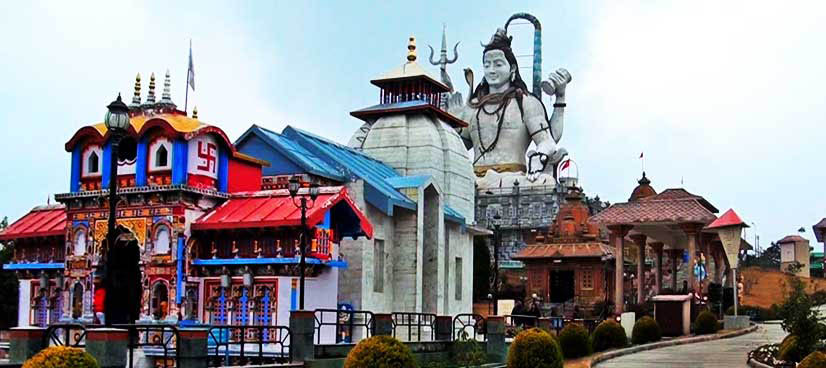 Perched at an elevation of 1315mt, 78km from the capital town Gangtok is the district headquarter of South Sikkim, Namchi. Previously Namchi used to be considered just a large town with little to no attraction for the tourists.But however, Namchi with its unhindered view of Khangchendzonga range and the Rangeet valley is growing as a popular tourist destination in Sothern District of Sikkim. The word Namchi means 'sky high'.
In recent years, Namchi has played an important role in attracting tourist and emerging as a pilgrim centre by housing the replicas of four Dhams of India (char dham). Sprawled over the Solophok hilltop 5km south of Namchi, the site of char dham is towered over by the 33mt high gigantic statue of Lord Shiva. Char Dam is a famous sightseeing spot of Namchi. The concept of Char Dham was to bring together all the scared Hindu pilgrimage of India, and is dotted with the temples and pagodas built on a grand scale. Even those who are not religiously inclined, finds the natural beauty of this place quite attractive. As a result many tourists visit Namchi from Gangtok while traveling in Sikkim. There are many pictorial places to visit in Namchi at an easy accessible distance which thrives with man-made and natural beauty. Located 7km from Namchi on the way to Ravangla is a massive 33mt tall statue of Guru Padmasambava on the hilltop of Tendong hill known as the Samdruptse Statue.It is the highest statue of Guru Padmasambava in the world and on a clear day the place offers an astounding view of the adjacent valley. Close to Samdruptse is Ngadok Monastery, a well preserved monastery giving its visitors an insight in the Buddhist religion whilst helping them to find peace of mind with its tranquil ambiance. On the way to Samdruptse is Namchi Rock Garden famous among the localities and tourist for its well manicured garden with many attractive plants, flowers and different species of tree. It is an ideal place to enjoy the scenic beauty of Sikkim in a serene environment.About 16 km from Namchi town near the village of Sadam is Tarey Bhir. It is a long ridge that spans east to west with deep gorge on one side. The total length of the steep ridge is about a kilometer. The government here has constructed pedestrian footsteps which you can follow to take the long ridge walk. The hilltop of Tarey Bhir offers an astounding view of Kalimpong, Teesta Bazar, Rongpo, Tinchuley, Peshok, Ichey Gaon and many other tourist destinations to its visitor. Temi Tea Garden the only tea garden of Sikkim is located at a motor able distance of 30km from Namchi, adding up more charm in the beauty of Namchi. The picturesque sites with awe-inspiring vista of the Khangchendzongha range has made Namchi a must visit tourist destination.
From the gigantic statue of Lord Shiva to decade old monasteries, Namchi with its unparalleled view of majestic Mt Kanchenjunga has something to offer to its visitor. Surrounded with dense forested area and close by the only tea garden of Sikkim, Namchi has become a favored tourist destination in the travelers list visiting Sikkim.
Best time to visit Namchi
The best time to visit Namchi and enjoy the unhindered view of Himalayan range is during March to May and September to November when the temperature remains moderate and comfortable. It is best to avoid the rainy season since after a heavy fall the land becomes more prone to landslide.