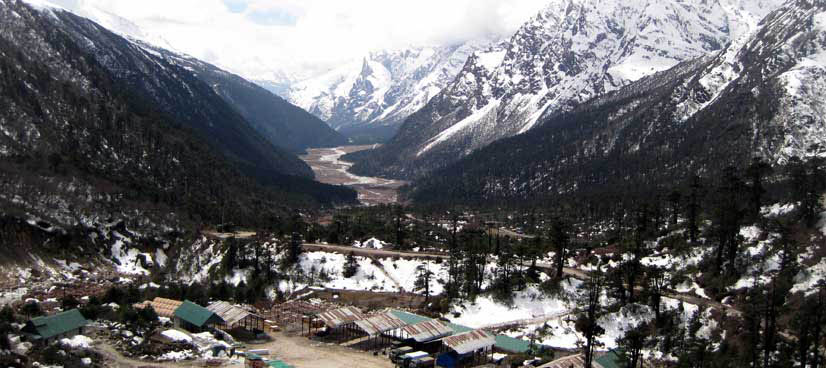 On earth there is no heaven, but pieces of it. Cuddled amidst the mountainous valley of north Sikkim, 140km from the bustling town Gangtok is a picturesque valley endowed with rich flora and fauna, called Yumthang Valley or also known as the valley of flowers. Perched at an elevation of 11800ft, Yumthang Valley houses some of the exquisite and rare species of Himalayan flora which are hard to find elsewhere, making Yumthang Valley the paradise for nature lover and botany enthusiastic traveling to Sikkim from around the globe.
Sited along the meandering river stream Yumthang Valley is situated in a location called tree-line. It is an altitude at which the trees cannot be found making Yumthang Valley an exceptional place to visit in Sikkim. Surrounded with more than 24 species of rhododendron, during spring Yumthang valley is covered in the beautiful vista of vibrant shades of red making it more enchanting and mesmerizing for the visitor. Situated at a height of 8000 feet at a distance of 120 km from Gangtok, is Lachung Valley a picturesque mountain hamlet which is also known for being the gateway to the valley of flower or Yumthang. The trekking trail of Yumthang Valley through the vibrant forest of rhododendron and primulas has captivated the mind of many tourists looking for adventure. The astounding vista of the blooming flowers along with the alluring fragrance of some exquisite Himalayan flora has left the visitors bewitched in the surreal beauty of Yumthang Valley. After feasting your eyes with the overwhelming sight of pristine nature in Yumthang Valley, the hot spring sprawled around Yumthang is another place where trekkers can rest and help their tired limb get healed by the medicinal water. There are many trekking trails around Yumthang Valley which leads travelers to some astounding place. Six km away further north is Shiv Mandir. A drive or trek to this place can be very refreshing and exhilarating. Situated further up at a distance of 16 km, at an altitude of about 16,000 feet is Yumesamdong also known as Zero Point. The rugged vegetation- free mountains, especially in the months of November to December and February to March over here present a breathtaking scenario. The journey towards this serene and picturesque destination is a unique experience in itself. Watching the sight of changing vegetation and landscape from the well maintained road to rugged terrain of mountainous valley is a sight to be adorned in the blissful journey towards Yumthang Valley.
Endowed with the abundance of flora and fauna close to the majestic Khangchendzonga range, Yumthang Valley with its exquisite collection of Himalayan flower along with over 24 species of Rhododendron has become the safe haven for the nature lovers who are traveling towards North Sikkim while the trekking trail through the lush green forest of fir and conifer with an astounding view of the snow peaked mountains has made Yumthang Valley a dream destination for many trekkers. Far away from the maddening crowd in the secluded land amidst the mountain valley, Yumthang Valley with its serene ambiance and scenic beauty has become an ideal destination for the tourist who long to find solitude while relishing in the wonders of nature.
Best time to visit Yumthang Valley
The best season for visiting Yumthang valley starts in late February and continues up to mid June, when thousands of colorful flowers are in full bloom. However, to enjoy a clear sky and brilliant view of snow-capped mountains, the September to December season would be ideal.