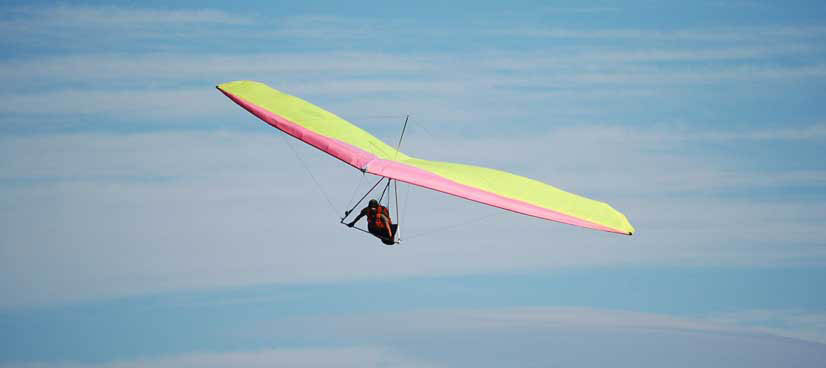 If you want to touch the sky and sky is the limit, then Hang Gliding is the ideal sport for you. Gliding in the blue sky above the Himalayan foothill like a free bird while witnessing the aerial view of the picturesque landscape of Sikkim can be experienced in Hang Gliding. Hang gliding is comparatively a new sport in India gradually becoming more famous among the sport lover and adventurer since no one can resist the urge to include themselves in such thrilling recreational activity. Hang gliding is generally performed by using air current without an engine power. The pilot is suspended in a swing harness from the centre of the keel and maintains control wholly by weight shift arrangement with the help of airframe.
Sikkim with its breathtaking mountain range vista and alpine forest area has hyped the interest of tourist from around the globe. The mountainous Yumthang valley of Sikkim ranging to 12000ft has an excellent geographical condition for recreational sport like hang gliding and paragliding. Hang gliding is meant for well built and physically fit people since the rider has to change the direction of the hang glider using their body weight which can be tiring for a long flight. You must be willing to learn gradually and use good Judgment and have an appropriate attitude. If you don't, then you can get injured or killed; if you do, then you can hang-glide until you're 90. If you are a hard core adventure then hang gliding will fulfill your desire of emulating birds. The gliders are made up of an aluminum alloy and fabric wings. For hang gliding you will be strapped in a harness attached to the light airframe and then learn to exercise control by shifting your body weight. During tandem hang gliding a certified instructor will guide you and let you enjoy the bird's eye view of pasture lands, rivers and beautiful scenic views while hang gliding cross-state for hundreds of kilometers.
Gliding high in the sky while relishing in the serene ambiance within the mighty eagle's domain and witnessing the pictorial view of the meandering river stream, the lush valley and rugged terrain of Sikkim can be a surreal experience for any one. Hang gliding let you get high on the adrenaline rush while soaring through the blue sky above the north-east region in Sikkim.
Best time for Hand Gliding
The best time to glide in the sky overlooking the hilly landscape of the mountainous state Sikkim is during summer and spring season which is from mid May to June and September to mid October. It is best to avoid the rainy season the unpredictable weather can be risky for the hang gliders.