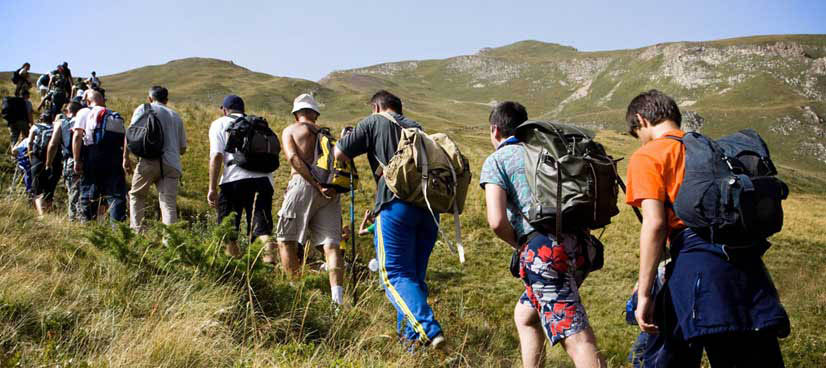 Mountains are the beginning and end of the all natural scenery. Small yet beautiful, Sikkim is a landlocked state cuddled on the foothills of Himalayas spread below world third highest mountain peak Mt Kanchenjunga. Sikkim is truly plunged into the enchanting natural beauty and its botanical and zoological affluence is truly impressive. The varieties of birds and butterflies in Sikkim are matched only by incredible diversity in the animal and botanical world, nourished by unique and dramatic geographical features. Amidst the grandeur glacial lake and rich forested valley, Sikkim offers some excellent trekking trails for the adventure lovers. Within a matter of hours one can move from its sub-tropical heat of the lower valleys to the cold of the rugged mountain slopes that reach up to the areas of perpetual snow.
Trekking in the rugged terrain of Sikkim which is blessed with the lush alpine forest and rhododendron trees while witnessing the panoramic view of the mighty snow capped Himalayan mountain range is truly an astounding experience. Dotted with amazing trail trekking in Sikkim has become one of the famous tourist activities for the adventure lovers. Apart from offering thrilling experience trekking in Sikkim is one of the best ways to unveil the surreal beauty of this Himalayan Region. There are many trekking trails in Sikkim like Green lake Trek which is said to be one of the trickiest and enthralling treks in the Sikkim Himalayan belt which goes through some of the secluded tribal villages perched at a lofty height of the mountains. Singalila Trek is a popular trek in Sikkim as it offers great views of four majestic summits namely, Everest, Makalu, Kanchenjunga and Lhotse. Also known as the Uttarey Singalila trek, this trekking expedition also offers an opportunity to explore 5 to 7 high altitude lakes in Sikkim. With ever-changing series of climbs and descend, these trek keeps your mentally alter and exhilarated throughout the trip, with astounding view of snow peaked mountains, splendid glimpse of exotic Himalayan birdlife and mesmerizing vistas of rhododendron covered forests; these treks are a perfect blend of pristine natural beauty and an incomparable adventure.
Rejuvenate your mind with the tremendous scenic beauty and serene ambiance while trekking through the mountainous valley of Sikkim. Take only picture, leave only footprints. Explore the authentic and surreal beauty of Sikkim while basking the magnificent vista of Himalayan Mountains while trekking in the high altitude destination since it's not the mountain we conquer but ourselves.
Best time for Trekking
The ideal time to trek and to relish the beauty of Sikkim is from March-June and mid September- November when the weather is pleasant to venture the hilly terrains. It is best to avoid rainy season since the chances of landslide and road blocks increase after a heavy rainfall. In winter the trekking trails of higher altitude destination are covered in snow making it almost impossible to Trek.