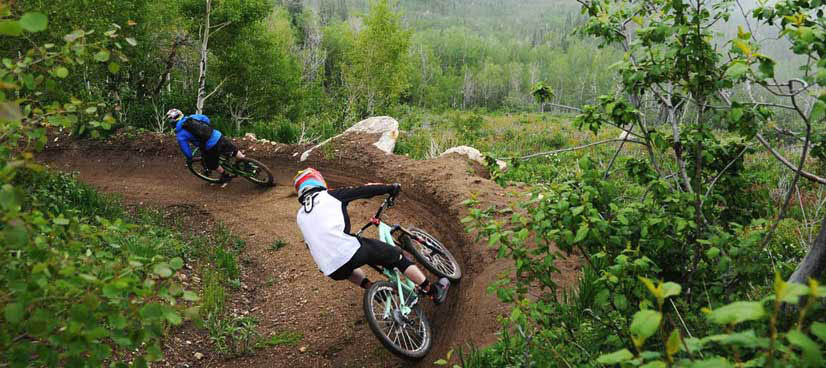 If you want to ride trails in the great outdoors, a mountain bike is for you. Enjoying the grandiose view of the Himalayan Range while getting kissed by the fresh cool mountain air, can be really rejuvenating after venturing upon the rugged terrains on a two wheeler. Sikkim with its lush deciduous forests and mountainous trails has emerged as an adventurer hub of North- East India. The flora and fauna along with the true Sikkimese culture can be explored while cycling through the lush green hills and dale overlooking the awe-inspiring view of majestic snow capped Himalayan Range of Sikkim.
The thrill of riding up on a high altitude range destination while relishing in the picturesque surrounding can be a ride of a life time. Mountain biking in Sikkim has become a famous adventure sport and has caught the attention of adventurer from around the globe. Lachen and the surrounding hamlets are dotted with exciting Mountain Biking trails and offer numerous scenic trails for relaxing rides around mountain lakes and through small villages like Tsomgo Lake and Pelling. The mountainous valley of Sikkim offers a huge range of cycling trails, from the steepest and bumpy trails to more casual ones ranging at an altitude of 4000mt to 600mt respectively for the mountain bikers. Mountain Biking in Sikkim lets the adventure traverse through the well maintained roads of the bustling Gangtok town towards the trails full of gravel in a serene ambiance with the view of the changing landscape to witness the surreal Himalayan beauty.
Venturing through the rough trails on a mountain bike with pictorial sights of the meandering river streams and waterfall with the backdrop view of grandiose snow capped mountains can be an everlasting experience. Mountain biking can be as exciting to watch as it is to take part. Whether you're a hard-core mountain biker or are just after an action-packed day out, the thrill of mountain biking while exploring the concealed Himalayan beauty can be experienced on the mountainous valley of Sikkim.
Best time for Mountain Biking
The best time to venture through the alpine forest at the high altitude destination of Sikkim in mountain bikes are considered to be during March-May and October to December. During this time, the weather is very nice and enjoyable for any type of adventure activities in Sikkim. It is best to avoid the trails during monsoon season since they became more prone to landslide.