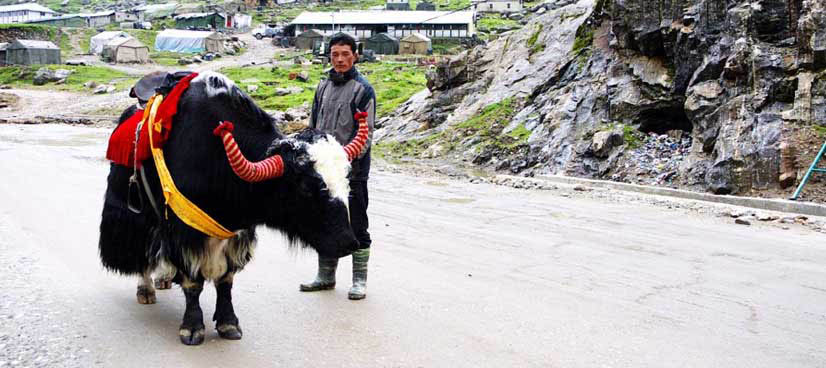 Sikkim the land of glacial lakes along with the panoramic sight of Himalayan Range has fascinated the mind of travelers from around the globe. The rugged terrain of Sikkim offers the prefect ambiance for recreational activities making it a hub for the adventurer and nature lovers. Covered with thick long furs and equipped with two horns, the mighty beast called Yak or the Himalayan Camel graze on the high altitude destinations of the Himalayan foothills. Riding on the back of the largest animal found in the harsh weather of the Himalayas can be an experience of life time. They belong to the same cow family as the Asian water buffalo, the African buffalo and the American bison. Yak safari has gained a lot of limelight among the localities and tourists in the recent year for its unique concept.
Yaks have been domesticated for over thousand years, primarily for their milk, fiber and meat and as the beast of burden. Yaks are used for transporting goods across mountain passes for local farmers and traders as well as for climbing and trekking expeditions. As the years have passed yak are still used for transportation but in addition they are also being used by the tourist to venture upon the less trodden path of Himalayan foothill. Travelers can relish this unique safari while visiting Sikkim. Saddled atop of the yak whilst witnessing the terrific views of the shimmering lakes and the glacial valleys, can be an encounter to cherished lifetime. The gurgling streams, the stunning cascades, highest snow peaks, meadows and forests are some of the main attractions of this rugged land. The popular destination explored on the back of yak is Tsomgo Lake in Sikkim. The glacial lake Tsomgo cuddled amidst the mountainous valley sited at an elevation of 3753mt is known for its bewitching charisma and saddled on the back of the beast of burden while feasting upon the rugged terrain and pictorial sights of the adjacent valley to reach Tsomgo Lake can be an epic journey.
The bewitching charisma of the landlocked state Sikkim can be enjoyed in a slow phase during Yak Safari. Yak Safari in Sikkim is available mostly through prior booking. However, one should take care not to challenge the humbleness of this magnificent animal as once challenged, it may forget its meek hospitality and assume the great strength it has.
Best time for Yak Safari
Apart from rainy season when the mountain trails become more prone to landslide, yak safari in Sikkim can be availed throughout the year.