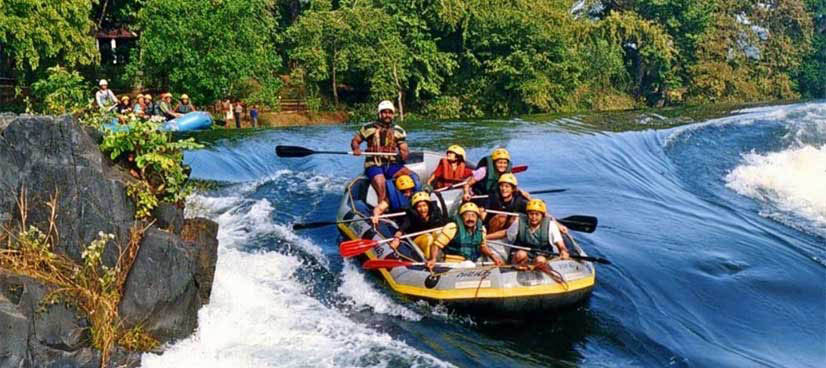 River Rafting in the roaring water of River Teesta has enthralled the minds of many travelers. The thrill of riding on the wild tides while overcoming the rocky obstacles can be an experience of a life time. You can experience it all while rafting in the white rivers of Teesta and Rangeet in Sikkim. Due to its rapid Teesta gets its white water. River rafting is considered as one of the most daring water sports, favored by most of the adventurous people throughout the globe. In River Rafting an inflatable raft is used to navigate through a river.
River Rafting in Teesta has become a famous water sport in Sikkim catching the interest of the adventurer from around the globe. River Teesta originates from the mysterious Cho Lhamu Lake which is perched at an elevation of 5,330 m (17,500 feet) in the mighty Himalayas. Also spelt as Tso Lhamo, the sacred Cho Lhamu Lake lies to the north of the Donkia Pass near Shetschen, where the summit of the pass is about eight kilometers north-east of Darjeeling as the crow flies. Graded 2,3, and 4 on the International Scale of River Difficulty the icy cold waters of Teesta with a series of rapid tides with varying intensity and character, extend a challenging invitation to one of the finest rafting stretches in the world.Professionals to novice rider, anyone can get the taste of the thrilling experience of riding through meandering river Teesta. If you are mentally and physically fit and you age 6-65 then there are no hindrances between you and river rafting in Teesta. But before you head for this adventure, make sure you carry extra cloths, and towels as you are bound to get wet by the splash of luxuriant river. The raft operators generally give instructions before boarding you in, which needs to be followed during the rafting session. The routes for non swimmers are gentle and easy without much rapids involved. However for the swimmers and experienced clients, the routes are more adventurous with high grade rapids providing quite a thrill.
White-Water Rafting is not for fashionable thrill seekers, but for those who thrive on hair-soaking risks, which keep the adrenalin flowing overtime! The thrill of rushing down fast-flowing Mountain streams froth with huge waves, dashing against dangerous boulders and dizzy rapids, while you cling for dear life dependent on a fragile, inflatable rubber raft. Experience it all in the river Teesta and Rangeet while travelling to Sikkim.
Best time for River Rafting
The best season to avail the thrilling ride on the river Teesta and Rangeet, while witnessing the daunting view of the surrounding valley and Himalayan range is from October to December.