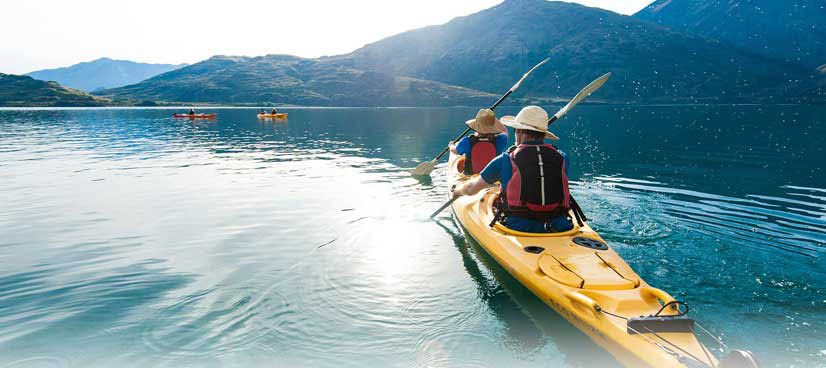 Do you love trying out new things and love the feeling of being high on adrenaline rush? If yes, then kayaking on the white rivers of Sikkim can give you an experience of a life time. Kayaking is a great way to build self-belief and get a real sense of achievement by learning a new sport while meeting some new people or having a fun afternoon out with friends. Sikkim with its rugged terrain and scenic beauty has become a hub for the travelers from around the globe. Sikkim white water rafting and kayaking have recently developed into an important tourist attraction in the state. The mighty Teesta and its tributary Rangeet provide for great opportunities for white water rafting and kayaking in the beautiful state of Sikkim.
Presently graded at four, river Teesta is considered as the lifeline of state of Sikkim in India. Fed by the glaciers of Sikkim, river Teesta has attracted travelers from around the globe who craves to glide upon the untamed rivers meandering down the Himalayan Valley, where the trail is serpentine and the scenery is beautiful with great forests lining the river banks. Kayaking allows those travelers to test their limits and relish the beauty of the roaring river Teesta. Kayak is small and narrow than a raft only accommodating maximum no. of two people in it, making it more adventurous and thrilling. Even the novice travelers can enjoy the thrilling ride of River Teesta on a kayak through the help of certified kayakers who are there to guide them in each paddle. Kayaks are made out up high quality fiber making it ideal to face the harsh waters of Sikkim. River Rangeet on the other hand are not meant for the novice rider, the high tides of the river Rangeet is known for being very violent and unpredictable where only the experienced riders can glide through it. It can therefore be easily said, that river of Sikkim has something for all white water sports enthusiasts at all levels of expertise.
Whether you are a first timer or experienced paddler, the meandering river streams of Sikkim is an ideal place to quench the thirst of your inner adventurer and get an experience of life time. Kayaking in the mighty rivers lets you catch the unique aspect of the mountainous valley where those rivers wanders, it is one of the best way to contemplate the beauty of the pictorial landscape of Sikkim.
Best time for Kayaking
To ride upon the untamed waters of Sikkim the best season is considered from October to April. It is best to avoid testing your water sporting skill on rainy season since the water level is dangerously high. Note, during winter the river water gets bitterly cold at high altitudes, and remains that way until early March, despite long periods of clear weather.