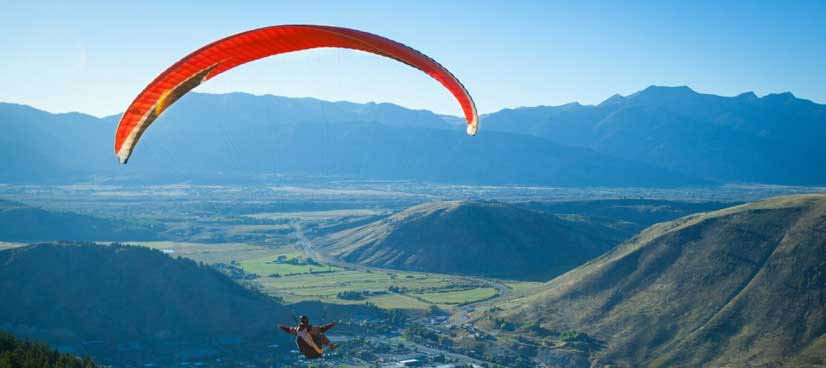 You haven't seen a tree until you've seen its shadow from the sky- Amelia Earhart. Everyone for once have imagined about how it would feel to have wings and not being bounded by the law of gravity, the feeling of cool wind brushing your face while unveiling the beauty of pictorial landscape from high above the sky. Paragliding is one of the easiest ways to fulfill those dreams of soaring in the blue sky. Paragliding is slowly becoming a famous adventure sport in India, and the quaint state Sikkim with the awe-inspiring view of the Himalayan Range is emerging as one of the popular destination for paragliding and attracting adventurer from around the globe.
The fascinating sport paragliding is one of the most popular aero sports in the world which has spiked the interest of adventurer for the adrenaline rush of flying high in the sky like a free bird and its origin goes back to 1940's.Sikkim with its rugged terrain, daunting hills, dense alpine forest and the panoramic view of the grandiose Himalayan Mountain Range has become one of the popular destinations for the travelers who want to experience the true beauty of Himalayas. The hilly landscape of Sikkim has made it an ideal destination for the recreational activities like trekking and mountain biking, and in the recent years paragliding has made its way into that list. Witnessing the mountainous valley with the backdrop view of Himalayan range while gliding up above the landlocked state is an outwardly experience felt during paragliding in Sikkim. If visitor is a first timer they can opt for tandem ride where a certified paragliding pilot controls the flight while they enjoy the panoramic vistas of Sikkim. They can choose different gliding session which ranges from 5-10mins medium flight to 30-40mins high flight but the timing may vary due to weather condition.
Get high on adrenalin rush through soaring high in the sky. Paragliding in Sikkim has become a favored thing to do in Sikkim as it lets you relish the cool breeze with breathtaking view of the Himalayan valley and river streams meandering through the mountains.
Best time for Paragliding
Weather plays an important role in paragliding session and to get an unhindered gliding experience the best time is considered from October to June when the sky remains clear.